His Enemy's Revenge Klaue Black Panther Poster
Don't forget include this His Enemy's Revenge Klaue Black Panther poster in your Black Panther movie collection.
Black Panther Klaw (Ulysses Klaue) is an ongoing enemy of Wakanda and its people, this clever criminal would replace his lost arm with a powerful weapon. This mercenary and arms dealer Klaue plied his trade in death to become the mortal enemy of the nation of Wakanda and its protector, the Black Panther.
Black Panther stars Chadwick Boseman as T'Challa / Black Panther, Michael B. Jordan as Erik Killmonger, Lupita Nyong'o as Nakia, Danai Gurira as Okoye and Letitia Wright as Shuri.
The movie is set in the fictional African nation of Wakanda, where T'Challa has been crowned king after his father's death. However, he soon finds himself challenged by factions within his own country who seek to destroy him.
The film is directed by Ryan Coogler from a screenplay written by Joe Robert Cole & Christopher Markus & Stephen McFeely, and produced by Kevin Feige.
It is scheduled to be released in theatres worldwide on February 16th, 2018.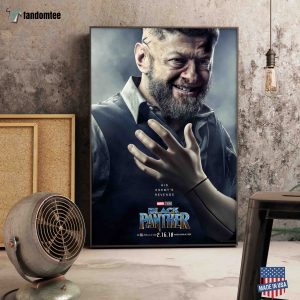 Product Information
Posters are great because they're easy to hang up on walls and ceilings, and they're affordable. They're also versatile, which makes them perfect for any room. You can use them to decorate your home, office, or even your car.
What We Use
Our printer is designed to work exclusively with specially formulated Epson inks. We guarantee to only use genuine Epson inks cartridges and papers in order to get high performance in printing standards.
Our Printer: We proudly use the most advanced printer from Epson: SureColor P9570 44" Wide-Format Inkjet Printer.
Inks: UltraChrome PRO12 pigment inks.
Print Paper: 210 gsm poster paper with a low-glare satin finish that offers sharp details, brilliant colors, superior light-fastness and excellent water resistance.
Key Features
We proudly use printer, poster papers and inks from Epson.
All prints are produced in-house to the same exacting technique, using the same high-quality processes, materials and subject to our standards.
This high-grade paper showcases full colour graphics, illustrations and photographs in the finest detail.
Thanks for shopping
We appreciate all value feedback on Fandomtee because it helps us develop and improve our business. We would love to hear your thoughts and opinions about our products. Please don't hesitate to share with us your lovely photos!