Can't Someone Else Just Do It Peanuts Snoopy Shirt
The Can't Someone Else Just Do It Peanuts Snoopy Shirt is the perfect way to add a bit of fun and nostalgia to your wardrobe. Featuring a classic design from the classic cartoon characters, this shirt is sure to draw attention and smiles wherever you go.
Made from high-quality cotton and featuring bold colors, this shirt is incredibly comfortable and stylish. The combination of Nike's signature logo with the beloved Peanuts Snoopy character makes this shirt truly unique.
Whether you're looking for something casual to wear around town or an eye-catching statement piece to show off your style, the Can't Someone Else Just Do It shirt is sure to be the center of attention!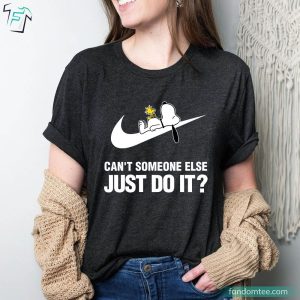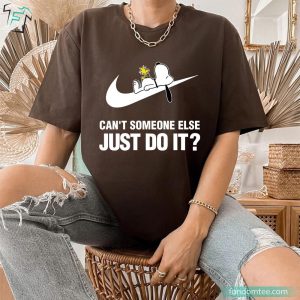 Product Information
This shirt is an important part of your wardrobe because it helps you look good and feel comfortable. It's also a great gift for someone special.
Brand we use
Adult unisex tee: Bella + Canvas
Youth unisex tee: Bella + Canvas
Ladies Tee: Bella + Canvas
Unisex Tank: Bella + Canvas
Long Sleeve: Bella + Canvas
Youth sweatshirt: Gildan
Adult sweatshirt: Gildan
Youth hoodie: Gildan
Adult hoodie: Gildan
Toddler tee: Bella + Canvas
Baby tee: Bella + Canvas
Baby bodysuit: Rabbit Skins
Key Features
A standard and casual t-shirt for everyday wear
Comfortable and flattering
Taped neck and shoulders
Wash instructions
Machine wash warm, front-to-back, gentle cycle using non-chlorine bleach. Tumble dry low heat, do not tumble dry over direct heat sources. Hang-dry or line-dry. Ironing may be required if the fabric feels stiffened after washing. Do not dry clean.
Thanks for shopping
We appreciate all value feedback on Fandomtee because it helps us develop and improve our business. We would love to hear your thoughts and opinions about our products. Please don't hesitate to share with us your lovely photos!